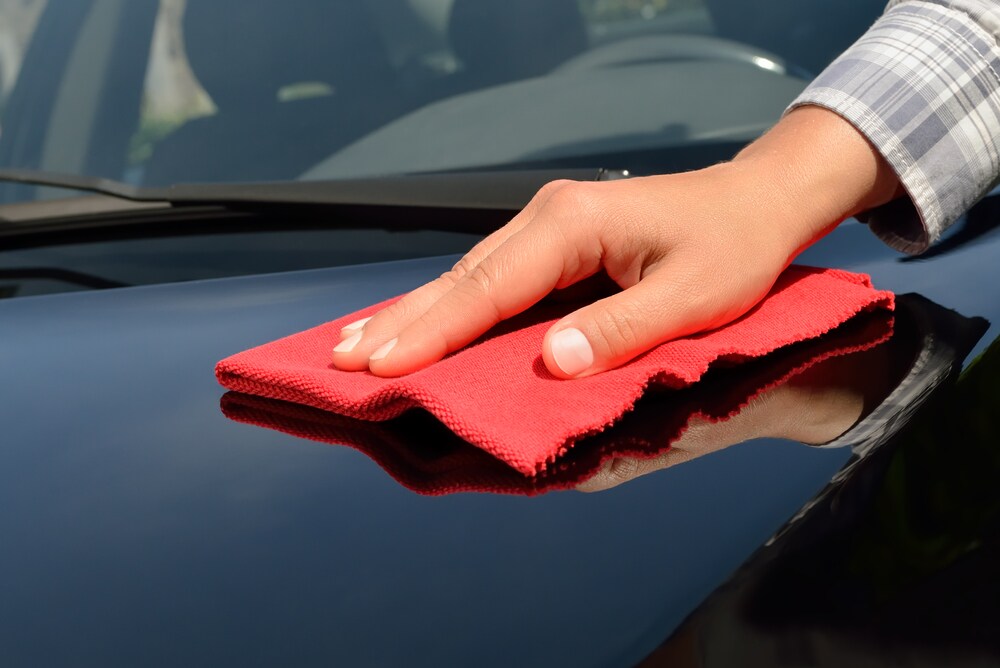 You take your cup of coffee out to the porch and look over the backyard. You smile to yourself and think it's finally spring again and it's time to get the old sports car out of its winter slumber and do a road trip! 
Pulling off the car cover always gives you a bit of a thrill, when you first see the shiny red baby, but this time it's a shock instead of a pleasure. You look upon your baby and for the first time your upset and sad you can't believe what your seeing. It's a slight, no its a huge scratch on the passenger side door and then you open the door and find a nest of mice in the floor board of the passenger's side. You sit down on the ground and just sit and stare in disbelief.  
Once your over your shock, you decide that it's time to remedy the current situation, but looking at the scratch again a second time only makes you mad and you walk back up to the porch to sulk for a bit. 
Cars are special things in our life, they hold great memories and well they are just not a thing, they are a big part of the family. Maintenance is something you can't skimp on or forget to do. Read below for some great ideas to make your car happy. 
There are several things you can do before you put your car away for the season. First, make sure it's covered and in a garage, but if you don't have a garage, make sure you invest in a weatherproof car cover.   
Clean it: Make sure your car is in tip top shape before putting her away. This could involve a final wash and be sure to check out any water stains or any damage to the paint. You may even want to give her one last wax job. 
Maintenance:  If your car will be setting up for long extended period of time make sure you change your oil. Also make sure you go out and crank the car up about every two weeks to keep your battery charged and take it on a small road trip. Make sure you fill the car up with gas, to prevent moisture from building up. Don't forget to add a fuel stabilizer, this will prevent any gas deteriorating for up to 12 months.  Keep a watchful eye on your tires, you may want to use a jack stand and remove your tires for the winter. 
Here's a checklist of what to do when you're ready to bring your vehicle out of storage: 
Check under the hood for any evidence of rodents. Look for chewed belts, hoses, wires or nests. 
If you covered the muffler or air intake, remove that material before you start the car.
Check the windshield wipers to see if the rubber is cracked or brittle.
Check tire pressure and inflate the tires to the recommended specs.
Check the brakes. Rust may have accumulated on the rotors. In most cases, this should go away after you drive the vehicle for a short time.
Check fluids to make sure there have been no leaks and that they are at the recommended levels.
If the battery cable has been disconnected, make sure that you reconnect it and that the battery terminals are clean.
Wash your vehicle to remove any dirt that may have accumulated.
Drive with confidence knowing you did your prep work and enjoy your first spring road trip with a smile on your face.
Related Article:
Car & Truck Storage Help by Beck Chrysler. If you are a student, military, or simply working away from home, and need to store your vehicle, you need to make sure you follow this protocol.
Author Note: Tammy is the owner and author of the Frugal Southern Mom Blog. Visit her on Pinterest, and Twitter!